Even More Changes for Twitter
By: Kassidy Coleman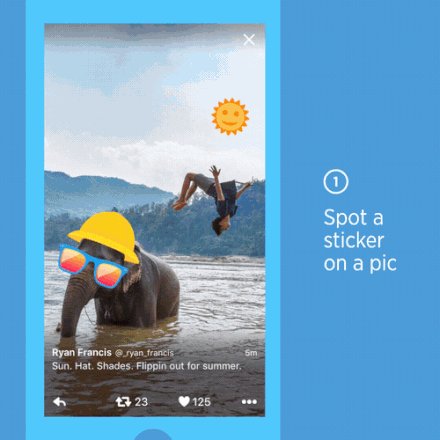 Earlier this month, it was huge news that Snapchat totally beat Twitter in daily usage. Now it's becoming more evident that Twitter has been working hard to try to catch back up to Snapchat and become more relevant in the world of social media.
Today, Twitter announced they will be giving users more room for creativity. Soon, you will be able to add #stickers to your pictures and share them with the Twitter world.
Every day, millions of photos are Tweeted every day and Twitter wants #stickers to help connect them all. Twitter plans on using #stickers as a visual hashtag. Basically, when you tap on a sticker in a Tweet, you are then taken to a new timeline and can see how other people are using that sticker on their photos. It sounds kind of like they may have just one-up'd Snapchat. Snapchat already allows users to add silly stickers, however there is no database to see how other users are using them.
Lately Twitter has been having a problem with getting users to actually Tweet and not just lurk around. Their solution to that is now allowing you to see Tweets from specific places, such as a restaurant, sports game, or business. Powered by Foursquare, when you tag a specific location, it will be visible on the main timeline. Click the location on the Tweet, and you'll be able to see other people's tweets from that location. So if you could see Tweets people posted about a certain restaurant and decide whether or not you actually want to eat there. This feature should encourage users to Tweet while on the go and get completely immersed in their environment. Although an issue that has risen is locations are not geofenced, meaning anyone can put their location as anywhere and spam certain locations.
Do you think that Twitter's new features are going to help it catchup to Snapchat? Let us know in the comments below or join the conversation on Twitter!